Breezway Windows | Made On Oahu
High Quality Louvers Perfect for Hawaii Homes – Like Yours!
Breezway has maintained a presence in Hawaii for over 30 years through licensed distributors.
Most importantly, they've now been operating a Manufacturing Plant based in Aiea for over five years, offering local assembly, shorter lead times, training and after-sales service.
Breezway is also the very first manufacturer to offer tempered safety glass on the island of Oahu to ensure you have maximum safety when using Breezway Louvers in your projects.
WHY BREEZWAY LOUVER WINDOWS?
Breezway Louver Windows offer the following benefits including:
Increased energy efficiency, health and productivity of building occupants.
Reduced need for air conditioning to keep the room at a comfortable temperature, saving electricity and the running costs of a building.
Low U-values required for energy efficiency compliance/excellence.
The ios Window System
Suitable for internal or external screen applications
The ios Window System includes an integrated insect and security screen housing that allows easy fitting of screens to the frame. Screens can be installed from within the building and are positioned so that they will not interfere with the operation of the louver blades.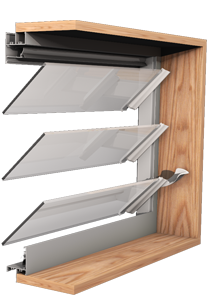 The Makani® Window System
Suitable for narrow frame applications
Featuring modern architectural lines, the Makanai Altair Louver Window System has been developed to suit narrow frame applications when screening is not required. The Makani Window System can effectively bring natural light and ventilation into the building to reduce the need for power-hungry artificial cooling systems.
Constructed entirely of non-corrosive materials including 6060-T5 aluminum, stainless steel and industrial strength acetal and polypropylene.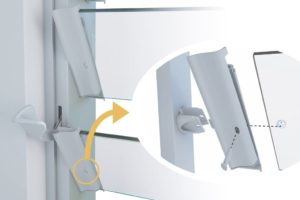 Stronghold Feature
Secure and Safe
Designed to mechanically retain blades without obstructing outdoor views, the Stronghold System improves blade retention and minimizes the risk of blades being dislodged by impact.
Stronghold is ideal for multi-level buildings, schools, lanai enclosures, or as an added barrier in residential buildings. The louver blades are retained in Stronghold Clips by a pin that passes through the clips, bearing and blade.
Once installed, the pins cannot be removed without tools and the blades are prevented from being removed from the clips. Pins are visible on the inside/underside of the clips.
Warranty
Breezway North America, Inc. ("Breezway") guarantees to the original commercial purchaser ("Purchaser") of Breezway Louver Windows ("product") that Breezway will, at Breezway's option, either repair or replace the product that is found to be defective in workmanship or materials during the seven (7)-year warranty period ("Warranty Period") which starts from the date of purchase of the product ("Start Date") and expires seven (7) years after the Start Date, subject to the conditions and exclusions contained in this warranty.
The following conditions and exclusions apply.